What is MINDFULNESS?
Mindfulness is paying attention to the present moment, with curiosity and kindness. 
MINDFULNESS is a way of paying attention to our inner and outer experience:
on purpose (intentionally)
in the present moment (knowing what's going on right now)
with kindness (treating yourself kindly, regardless of what you are experiencing)
without judgment (being open and curious about your experience, without getting all wrapped up in it)
Mindfulness is a powerful practice that can help you focus, recognize and manage your emotions, calm down when you are upset, make better decisions, and cope with depression and anxiety. The important thing is that we PRACTICE it, just like we would any new skill. It might feel weird or strange at first, but think of mindfulness class as a chance to perform a series of experiments so that you can find the practices that work for YOU.
MINDFULNESS PRACTICES
Anchor Breathing: Nose, chest, belly
Try two minutes a day to start!
Bring your attention to the physical sensations of breathing — feeling the air coming in and out of the nose, feeling the rise and fall of the chest and the belly. As best you can, focus on what you actually notice in your body. When you notice a thought come up, just notice it! You don't need to try to push it away, and you don't need to follow it, either.
Take a moment to notice how you feel after doing a few minutes of mindful breathing.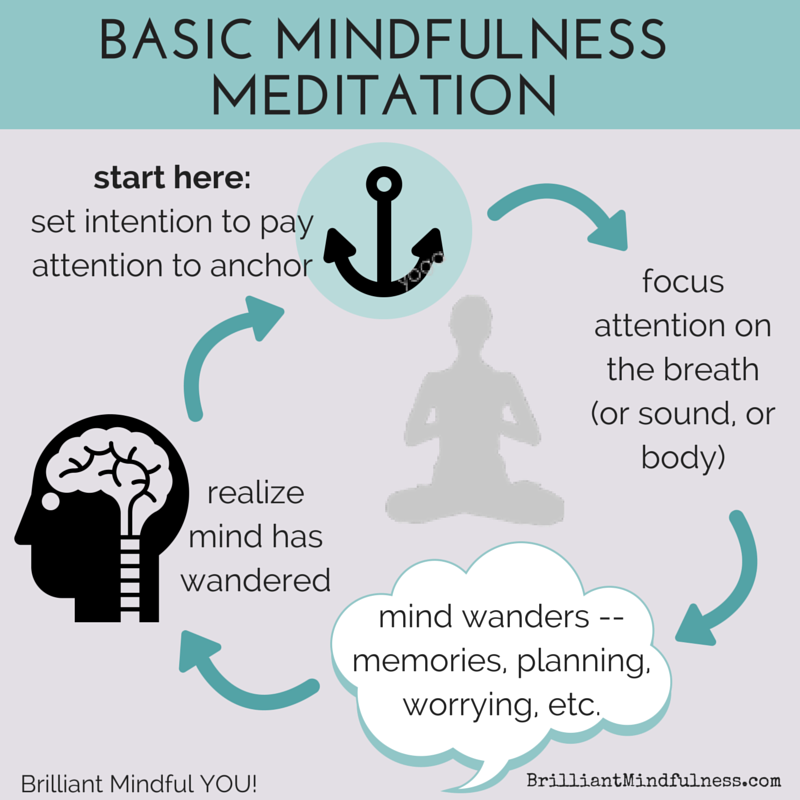 Experiment with Posture
Check in with your posture — are you upright and alert? Do you feel tense and contracted, or open and relaxed? Try to sit upright, with your head just resting comfortably on your spine. See if you can find a posture that reduces efforting — as best you can, let bones and gravity do the work, and allow your muscles to rest.
Mindful Listening
Pause, and just notice the sounds around you. Can you identify five different sounds? (This can be relaxing, and literally gets you out of your own head!)
Where's my Attention?
Throughout your day, just pause and notice where your attention is. Are you present? You could set reminders on your phone for this, or you could leave little notes to remind yourself.
RESOURCES
Stop, Breathe, & Think (App for teens)
Smiling Mind (App for teens)
Change to Chill (designed for teens, by teens — with lots of helpful videos and guided practices)
---
Session #1: Reflection
Mindfulness is a deliberate way of paying attention to the present moment. Is this how you normally live your life? What things do you do mindfully during your day? What things do you do mind-less-ly?
Mindfulness is also about noticing the judging tendencies of our minds. Do you notice that you do a lot of judging during your day? Can you try to be more aware of the judgments you make? Remember, we don't want to judge our judging and get mad at ourselves for doing something that is absolutely normal for our brains to do. But it is helpful to be aware of our preferences and our preconceptions about the world!
How can you use mindfulness during your day?